The UW Department of Psychiatry and the HealthEmotions Research Institute are looking for children, ages 8 to 12, to participate in a paid research study. Children who have received treatment in the past, or are taking medications for anxiety or other emotional issues are not eligible to participate. Children who have braces are also not eligible to participate. If you think your child may fit these criteria, please complete our online screening by clicking on the "Let's Get Started!" link below. The screening has sections for both you and your child to complete, and will need to be completed in the same session. You will earn a $10 gift card to Amazon, Target, or Walmart for completing this survey. This gift card will be sent to you by mail after you complete the survey. Please note if you have previously completed this research study screening your child is NOT eligible for additional compensation and will not receive a gift card by mail. If you believe your child's status for study inclusion may have changed from a previous round of screening please contact us at (608) 263-2338. Children who qualify for the full study may receive up to $250 over multiple study sessions that include MRI brain scans, clinical assessment, behavioral tasks, and questionnaires about mood and health.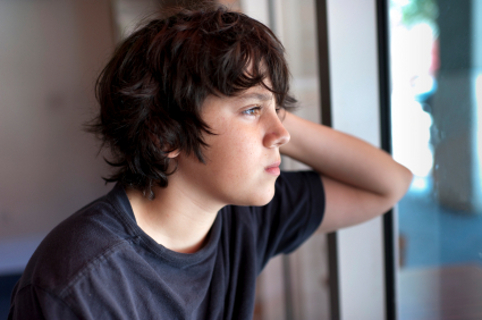 This is an accordion element with a series of buttons that open and close related content panels.
More about this Research
This study is led by Dr. Ned Kalin, Hedberg Professor and Chair of Psychiatry at the University of Wisconsin Department of Psychiatry. The study will use a MRI brain scan to collect information about brain structure and function in children with anxiety and/or depression. In addition to the MRI, participation in this study will include a clinical assessment, behavioral tasks, and will require both parents and children to answer questionnaires about the child's mood and health. With this and previous studies, Researchers hope to better understand how to detect early risk for the development of these problems. This area of research is particularly important because significant anxiety earlier in life may be a risk factor for adult anxiety.
More about Anxiety in Children
Emotions can be hard to figure out. Sometimes you might feel happy and other times sad or angry. Maybe you feel shy or nervous. Those are emotions too and they are totally normal. Sometimes being nervous or shy can cause you to feel like your heart is beating really fast, or your hands might get sweaty. Maybe it makes you feel sick to your stomach or grumpy. What triggers these feelings? For some people it can be taking a test or meeting new people, going new places, or reading out loud in class.
"It's normal for kids to be nervous every once in awhile, but when it interferes with their daily life, with school, friends, and family, then you should consider it a problem," says Dr. Ned Kalin. Dr. Kalin adds, "if your child worries more and is more shy than other children his or her age, then it is possible that he or she may suffer from anxiety." Anxiety disorders affect one in eight children. Research shows that untreated children with anxiety disorders are at higher risk to perform poorly in school, miss out on important social experiences, and engage in substance abuse. In addition to the psychological suffering and disability associated with childhood anxiety disorders, children with anxiety have an increased risk to develop more complex anxiety disorders, depression, and substance abuse as adults. Treatment for anxiety in children can include medication but typically the first line of treatment is Cognitive Behavioral Therapy (CBT). CBT is a well-established, highly effective, and lasting form of treatment. It focuses on identifying, understanding, and changing thinking and behavior patterns. Benefits are usually seen in 12 to 16 weeks, depending on the individual.
If you think you and your child may be interested in participating in this research study, please complete our online screening by clicking on the "Let's Get Started!" link below.
PLEASE NOTE THAT ALL GIFT CARDS ARE SENT BY MAIL, NO ELECTRONIC DELIVERY.
Survey responses are reviewed by fraud detection software prior to distribution.
If you have additional questions, please email our study team at ablestudy@psychiatry.wisc.edu -or- call us at (608) 263-2338. If we do not answer, please leave a voicemail with your name, contact information, and the best time to reach you, and a member of our staff will get back to you as soon as possible.